In this interview with Bev we will not only learn some Voice Over Tips from a Voice Arts Awards Nominee, but also we will also discover how the World Voices Conference went and learn some guidelines to know how much you should charge for a voiceover project.
Listen to the whole interview here.

Bev, a Canadian voice talent with years of work experience masters a wide rango of accents, including Canadian, neutral USA and British. This, together with a crystal-clear voice makes her a perfect choice for any type of project.
How did you end up in the voice over world? How were your beginnings?
2008 was a terrible year in my life. I decided to move ahead, and I started a course just to keep myself busy. I searched through the Internet without any particular idea in mind, focusing primarily on the dates. I discovered that that same weekend there was a Voiceworks voiceover workshop in Toronto, Ontario, Canada; I signed up (which is funny, because I was in fear of microphones).  I discovered that being in the moment, as they call it, made me feel good. Thus, I joined other workshop mates and we decided to inquire into improvisation in Second City, Toronto. This took me to 5 levels of improvisation, acting classes and more voiceover workshops. One day, I received a phone call requesting my attending to a casting for a radio job. Immediately, I went to buy the equipment to build a home studio. And that's how everything started. Curiously, I didn't get the job, due to budget restrictions, but I then knew that I wanted to continue doing it as a hobby. I started to apply for online castings and had the great luck of having work regularly.
You were at the World Voices Conference. How was your experience? What does a conference like that offer to a voiceover talent?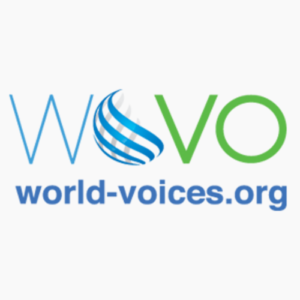 World Voices Organization, or "WOVO", is a non profit organization promoted by its members, made up of professional voice talents and other people from the industry. I really enjoy assisting to the conferences, specially this one. They take place each year in Las Vegas, and minor conferences are also held at other times through the year, always in different places. In fact, the first international conference was in Toronto, Canada. We voice talents work practically alone, and there's something special in seeing each other face to face in these conferences, developing relations and friendships. What I like the most about WOVO is its role in promoting instruction, mentorship programs and connecting people from everywhere to help us understand what industry standards mean and how to implement them. In general, voice talents put a lot of work into their craft, much money and time in training and equipment, all of it to offer the best services and obtain the corresponding compensation.
What did impact you the most about the conference? Did you learn new things or acquire a new perspective?
What impacted me the most was that this time the host was Bob Bergen, best known as Porky Pig's voice. He shared his story, the successes and failures he experienced when building up his company. He reminded me how important effort, determination and self-trust are, as well as everyone's will of sharing their viewpoints. We have a directors committee that willingly devotes its time to listening to us and implementing changes and additions to WOVO's program. New knowledge always comes up. Having people that are not only voice talents, but agents, studio owners, sound engineers etc., helps us understand the whole process, something very important.
Many voice talents, especially beginners, wonder how much they should charge for a voiceover project. What's your advice about this?
Very good question, my first recommendation would be to consult the Voice Acting Global Academy Rate Guide, based in the US, or the Gravy for the Brain Rate Guide, in the UK. In them, you can learn how many genres there are, as well as broadcast and non-broadcast options. Rates vary in different parts of the world, as laws do, and each voice talent's professional status will also influence them, just like a Lamborghini is more expensive than a Kia.
What advice would you give to newcomers?
Explore, explore, explore. Make sure you know who to train with. Don't hesitate to listen to opinions different to your mentor's. The same goes for samples production. Listen to other people's work and read their opinions.
Search online for the equipment you need. Facebook groups have very good info. Read and find the subjects that interest you before making questions. Getting into a Facebook group and asking without having done any previous research can be very repetitive, because the same questions are repeated again and again. Listen to what others say, and then decide what's more convenient for you.
In your beginnings, you don't need a 1000 dollar microphone, but a good quality mic is important, among other things. Learn by yourself. Google and YouTube can provide you with lots of information.
Explore online sites where castings are held, learn the nomenclatures and the costs they imply before signing up. If you decide to sign up with one of these sites, invest some time in your demos. It's a great chance to practice different types of reading, characters etc. It doesn't mean you have to send the demo if you don't like it, but it will help you find out what your profile is.
And most important: read out loud every day. A newspaper, a book, a magazine, whatever. And never stop training, because trends change, and you must always be up to date.
Our blog provides voice acting tips and answers common voice over questions. Follow us.