¡Christmas has come to Dani Voice Overs!
We want to celebrate with you the arrival of these special days. We are working on something really special and we want you to be part of it. 
You just have to take a picture and follow these simple steps, it's very easy:
Include a Xmas note on it in your own language.

Wear something red and/or something related to Christmas like a Christmas tree, a snowman, a Santa Claus hat,…

Publish the photo on your facebook or twitter account with this hashtag: 

#DVOMerryXmas
IMPORTANT! Don't forget to mention us @DaniVoiceOvers when sharing the photo. All of them will be reposted on our Facebook and Twitter profile and will appear in our Special Christmas video.
In DVO, we have already begun to take our photos: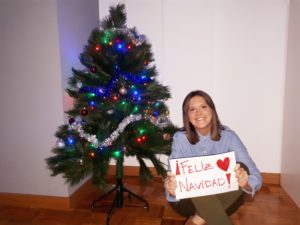 We are waiting to receiving yours. Share the magic of Christmas!
Meet our more than 2000 native speakers in 90 languages in e-learning, corporate, IVR and commercial. Professional who put their voices at the disposal of the most significant brands in the world, and of new entrepreneurs too. Voice talents with extensive experience who have decided to join DVO – Dani Voice Overs.